The obvious benefit of a video monitor is the ability to see your baby. One click provides anxious mothers with a peace of mind that normally only comes with actually laying eyes on their sweet little dreamer. For many, that peace of mind alone is a luxury worth paying for.
Of course, you can always check in on your baby in person, but a video camera will save you a lot of legwork, especially in those early months where every unfamiliar sound from baby's crib feels like cause for concern. A quick check of the camera offers all the reassurance of a sneak peek without the risk of startling your little one, and all from the comfort of your own well-deserved bed.
Do You Need a Baby Camera?
If you sleep in the same room as your baby or live in a small space where you can always hear or see what your baby is up to, you probably don't need a camera. But, for those of us who planned NOT to co-sleep (even if we did because having a baby rarely goes as you planned), a baby camera is probably one of the first things you think you need, beyond the diapers, cream, and burp cloths. How will you hear the baby if he wakes up, if you don't have a baby camera? Baby cameras can also double as a nanny cam to keep an eye on your child and their caretaker when you're not at home.
Baby Cameras Can Be Useful
No matter what method you choose, sleep training is a difficult process. While the cry-it-out method may not be for everyone, it can be a very effective, if somewhat painful, way to teach your child to go to bed. A video camera can be tremendously helpful, allowing parents to make confident judgments as to whether or not their child is actually in need of their attention while ensuring their safety at all times.
If your baby wakes up, it's easy to look in the monitor to see what's going on. Is she fussing, searching for her pacifier, finds it, and rolls back over and goes to sleep? Is she at the bottom of the crib? A video camera, specifically, helps you stop imagining that something terrible happened in there or helps determine precisely whether you should go in at all. Perhaps that is teaching your baby more self-reliance than if you were forced to check on her each time.
What Baby Camera is the Best?
Foscam R5 5MP wifi Home Security is top of the line when it comes to monitoring functions. It uses an R5 camera, a top of the line when it comes to video monitoring and focuses. It is used in high-end photography and videography because of its fast and accurate autofocus. More so, it comes with 5MP@15fps, producing sharp and accurate images. Professionals use it because of these features, especially in terms of great handling and top-notch image stabilization.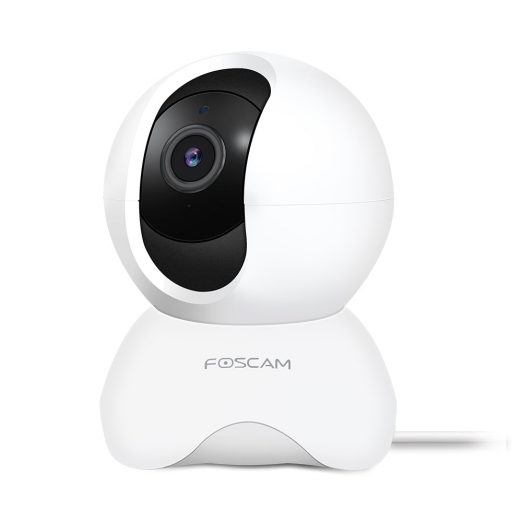 1. Various Storage Options
The Home Camera Supports 24/7 continuous recordings directly to the SD card (up to 128GB, not included), Foscam cloud service (sold separately) with more storage capacity. Motion clips can be saved to the optional Foscam Cloud for 30-day free storage.
2. Introduce More features
This IP camera provides high-definition images and HD video with 5MP resolution. Uninterrupted security, no matter day or night. You can keep an eye on your home anytime anywhere. Camera works with 2.4G WiFi(5G is not supported)
In addition to motion & sound detection, with Foscam new intelligent human recognition technology, this security camera can only detect human activities, eliminating 'false alarms' triggered by flying insects, moving pets or other objects, experience more personal and purposeful home security.
Lastly, this camera can rotate 350° horizontally and 70° vertically. You can simply pan and tilt it via intuitive Foscam software (free Foscam App/Client on iOS or Android phones, Windows PC or Mac), to monitor every corner of your home.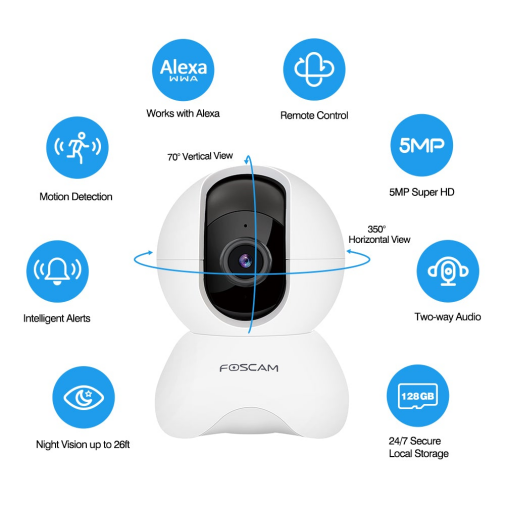 3. Two-way Audio & Works with Alexa
The wireless camera supports two-way audio communication in virtue of built-in microphone and speaker. Works with Alexa, ask Alexa to show your front door, baby room, or anywhere else you have your foscam wifi camera.
4. Foscam APP and Foscam VMS
Foscam App for IOS/Android is available for you without extra fees. Our powerful VMS software is also available for your PC. Just control your camera anytime, anywhere.