The best outdoor security cameras have features that will help protect your home from potential intruders and that help you keep an eye on pets and the neighborhood squirrels. When rating outdoor security cameras specifically, we look for features like facial recognition, night vision, weatherproof builds, and high-resolution video.
What to look for in outdoor security cameras
When looking for an outdoor camera, the top priority is weatherproofing. Only cameras that are specifically marked as "outdoor" should go outside; indoor cameras are often cheaper but can't withstand the weather.
You'll also want a camera with decent resolution and night vision so that you can easily see people and objects in clips. Next, look for any features that help you detect visitors and deter intruders. We're talking motion detection, people detection, package detection, facial recognition, two-way audio, stuff like that.
Outdoor camera features that work best for homes:
Weatherproof builds
High-resolution video
Night vision
Two-way audio/talk
Customizationmotion zones
Facial recognition
If you do decide to use an outdoor security camera with an apartment, you probably only need one camera. In contrast, if you live in a home, you'll want an entire outdoor security camera system with multiple cameras.
Our current favorite outdoor camera is the HT2 because it has all of those top features and more.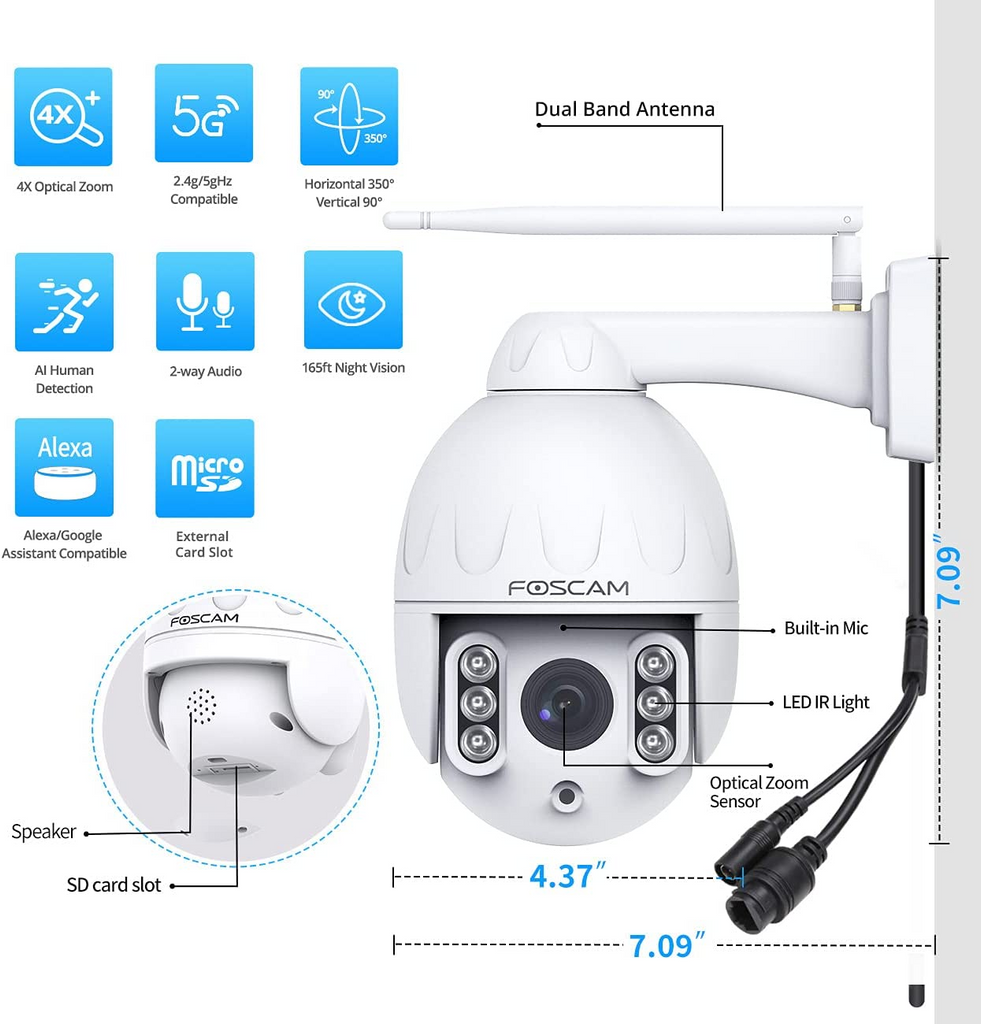 Compatible with 2.4g/5gHz Wifi
Powerful 2.4/5Ghz Dual Band WiFi chipset brings stable and longer WiFi transmission distance with WEP/WPA/WPA2 encryption.
4X Optical Zoom for More Details
Comes with 4X Optical lens, which helps to cover a much bigger vision range and captures more details you care. No fuzzy pixels anymore when you try to enlarge the images.
Human Detection is Available for Reducing Unwanted Alerts
Not only motion/sound detection is available on this HT2 PTZ camera, but also the newest AI human detection can be enabled on the camera.No mess of unwanted notifications anymore.
Real-time 2 Way Audio
Internal microphone and speaker are included in this HT2 PTZ wifi camera. Just simply open the app and talk to families/guests anytime, anywhere.
Works with Alexa/Google Assistant
Smaller & Smarter. Easier to live view your home via your smart device with voice control like "Alexa, show me the front yard".
Ranges up to 165ft Night Vision
Thanks to the 6 powerful LED IR lights. HT2 can offer clear views up to 165ft in the night without any light.
HD 1080P Video Resolution
Ultra clear and fluent 1080p @ 25fps video resolution would bring smooth video experience.And you can choose to save videos in SD card(Not Included) or our cloud service plan.