New Arrival
🔥BOGO T5EP🔥Foscam 5MP Ultra HD PoE Security Camera
✅5MP UlTRA HD✅Color NightVision✅Al HumanDetection ✅Power OverEthernet ✅2-Way Audio with Mic & Speaker ✅Power over Ethernet
Save an extra $25 when you apply the coupon above.
Regular price
$109.99
Sale price
$109.99
Unit price
per
Sold out
Estimated delivery time 3-7 days.
Features

New 3K 5MP Ultra HD Solution: Get you a 3K(3072*1728) clearer image and stabler video stream, ensuring exceptional clarity and detail for crucial moments. Easy PoE installation allows you effortlessly connect and power an IP camera using a single Ethernet cable and supports 24/7 continuous surveillance and recording. 𝙒𝙤𝙧𝙠 𝙬𝙞𝙩𝙝 𝙋𝙤𝙀 𝙨𝙬𝙞𝙩𝙘𝙝 & 𝙋𝙤𝙀 𝙉𝙑𝙍. (𝙉𝙤 🔌𝙋𝙤𝙬𝙚𝙧 𝘼𝙙𝙖𝙥𝙩𝙚𝙧!)
Enhanced Color Night Vision: Capture vivid and colorful images even in low-light conditions with 4 IR-LED. Whether it's rain, snow, or extreme temperatures, Foscam outdoor camera's IP66 waterproof rating ensures reliable performance.
Smart AI Detection:T5EP Smart Ai security camera not only detect human/vehicle, but also accurately distinguish between human, pet, vehicle, package, and even facial recognition after subscribing. Combined with enhanced sound and light alerts, T5EP makes a key moment or potential threat instantly catch your attention and allows you to respond swiftly.
Versatile Storage Solution:Supported up to 256GB SD card storage and cloud service by AWS, Foscam IP PoE camera offers ample space to store recorded footage. Choose the storage option that suits your needs and easily access or filter past recordings. Work with Alexa and Google Assistant, and integrate our IP PoE camera seamlessly into your smart home ecosystem.
Two-way Audio & Remote Access: Built-in speaker and mic, you can communicate seamlessly with loved ones through home security camera, enhancing security and maintaining a connection. Enjoy the convenience of remote access, allowing you to view live from anywhere via smartphone or PC.
Shipping & Delivery

Where do you ship?

We ship all products directly from USA warehouses. We currently ship to street addresses in the United States, Excludes Hawaii and Alaska.

Will my package be charged customs duties and taxes?

We ship all of our products directly from our warehouses in the USA to your home, we will handle the payment of taxes and duties and will include this pre-calculated amount in your total price during checkout.

The taxes and duties are calculated based on the standard rates set by the destination country's customs. At times, the actual import fees might vary slightly from our calculations for various reasons. If this is the case and the actual charge exceeds our calculation, we will always bear the difference. However, if the amount charged ends up being less than the costs incurred, we will not reimburse the differences.

How long will it take for my order to arrive?

It usually takes 3-7 working days by Express shipping after you place an order and complete payment. For Standard shipping, most orders will arrive within 5 to 10 working days after payment is completed. 

Local Carrier: FEDEX/UPS/USPS/Amazon Logistics

We are not liable for any shipping delays, nor loss of any kind caused by unforeseen and uncontrollable circumstances, such as unreachable recipients, invalid addresses, weather conditions that affect delivery, customs clearance delays and so on. In these situations, Foscam will try its best to notify customers of the delay, and if possible, make new delivery/collection arrangements with an estimated delivery date.

Please Note: Orders placed over the weekend or outside of business hours (9:00 AM - 5:30 PM CST Monday - Friday) will be shipped the following business day. Orders placed with expedited shipping after 2:30 PM CST are NOT shipped out same-day but will be shipped the next business day.

How are shipping costs calculated?

Free Shipping for all orders within U.S.⭐Please Note:Excludes Hawaii and Alaska.

What should I do if I have found shipping damage or wrong items?

All Foscam packages are sealed at the warehouse before they are shipped to you. Please check the packaging box and see if there are any signs of damage, or if the package has been opened during transit. If the box is damaged or any items are missing when you open the package, please contact our Foscam Customer Service and we will help you troubleshoot the issue.

What happens if I gave the wrong delivery address?

Once the order has been shipped, we cannot change the delivery address. In the event of an order being delivered to an incorrect address, or cannot be delivered at all, we will inform you by email. The couriers will hold the package for 5 days, and you may contact Foscam or our delivery partners to arrange for another delivery. If we do not hear from you within 5 days, the package will be returned to Foscam and you'll be responsible for the return shipping fees, which will be deducted from your refund of the product's retail price. Meanwhile, the original shipping fees are not refundable.

What if the package was delivered to the wrong person?

Please contact our delivery partners or Foscam Customer Support to get assistance.

How do I contact the courier if I have complaints or inquiries?

Please contact the local customer support team of our delivery partners for service inquiries.

How do I contact Foscam if I have any questions?

Please email us at support@foscam.com. Thanks.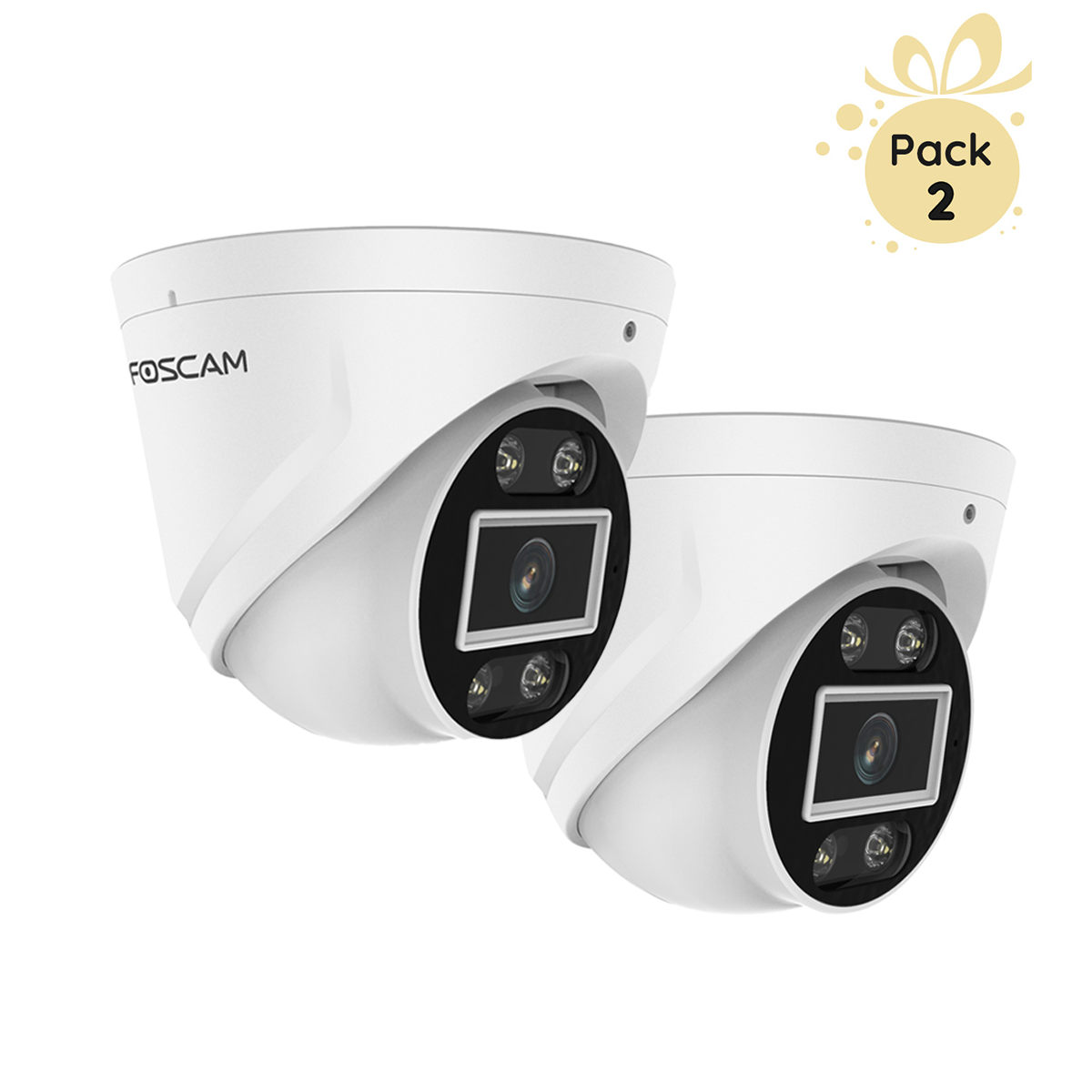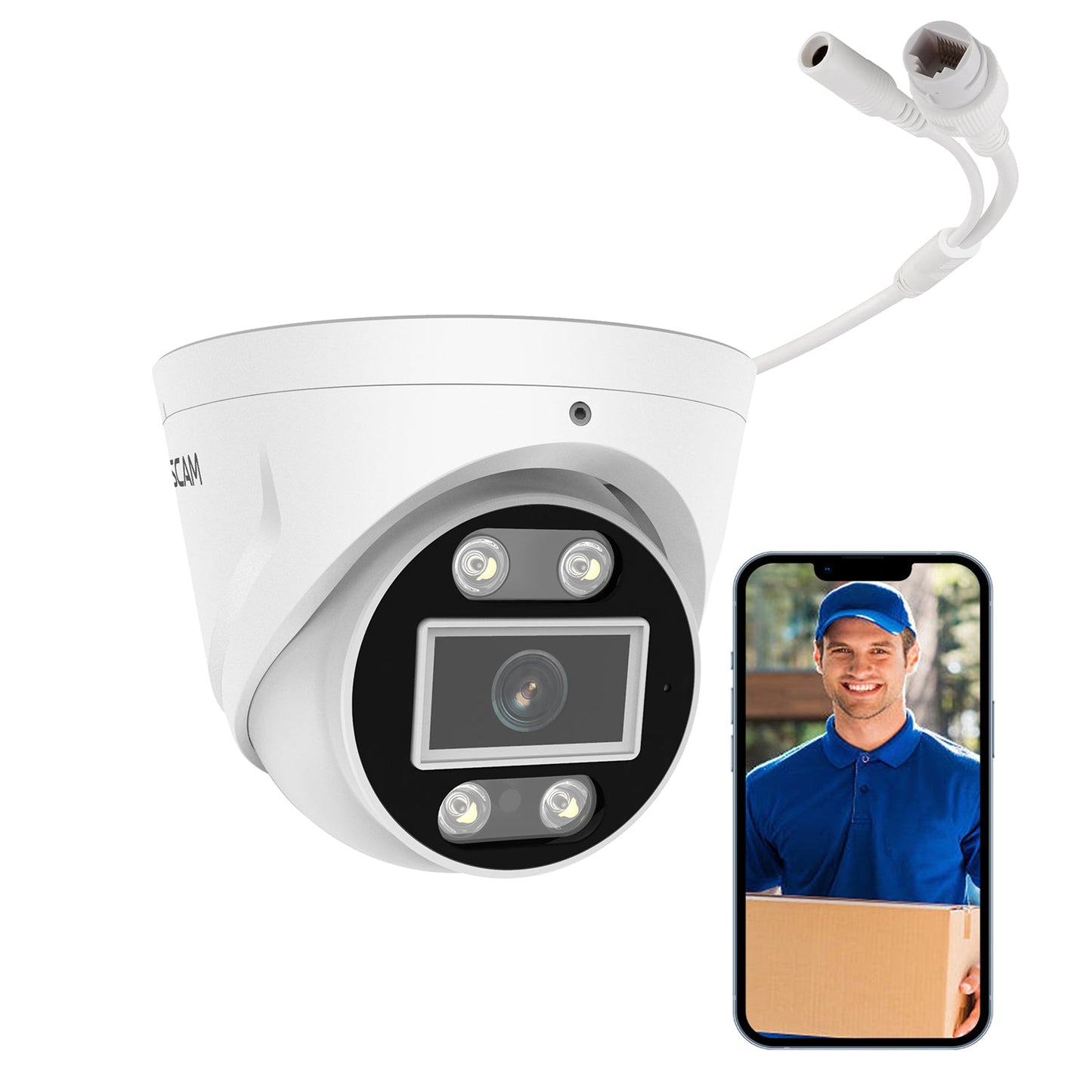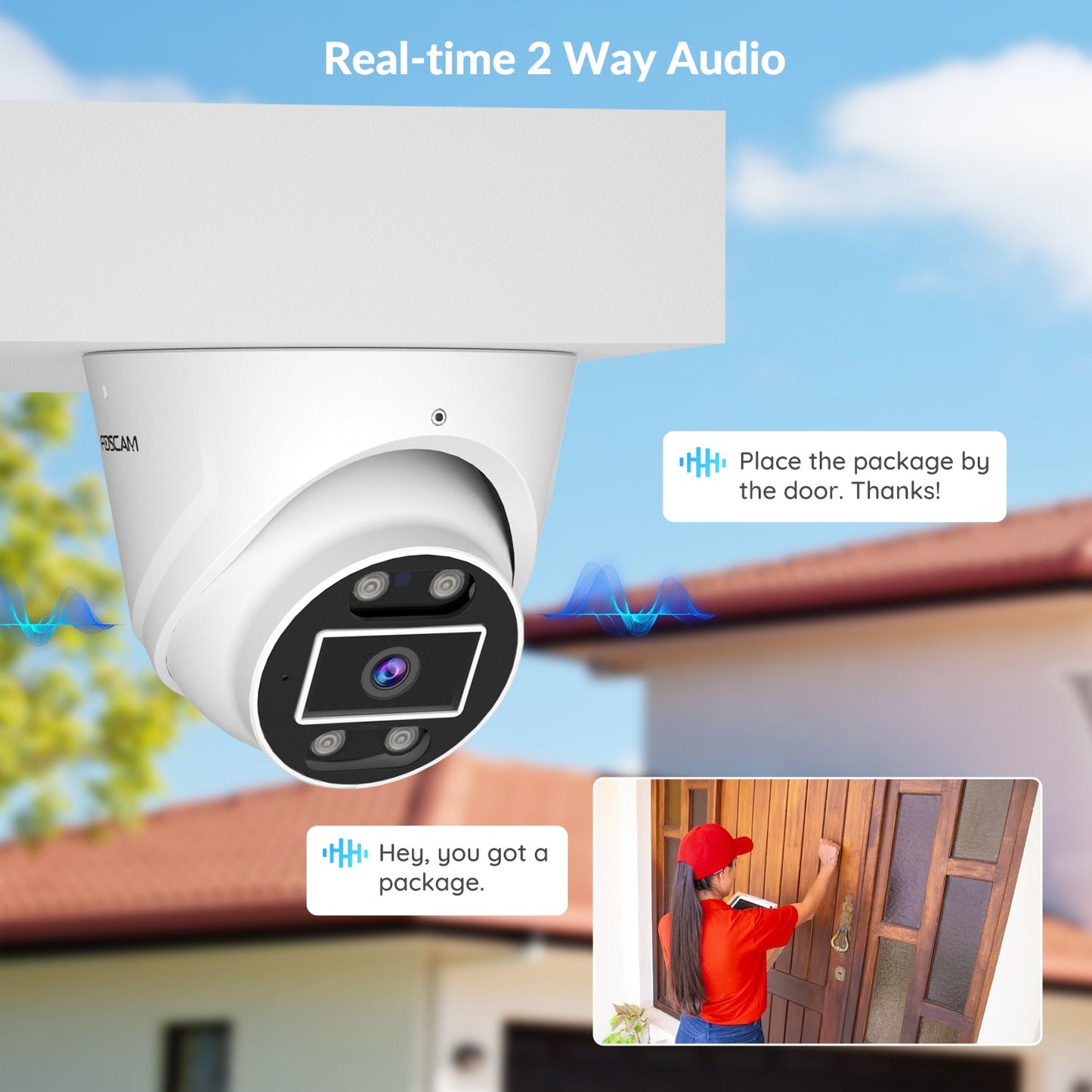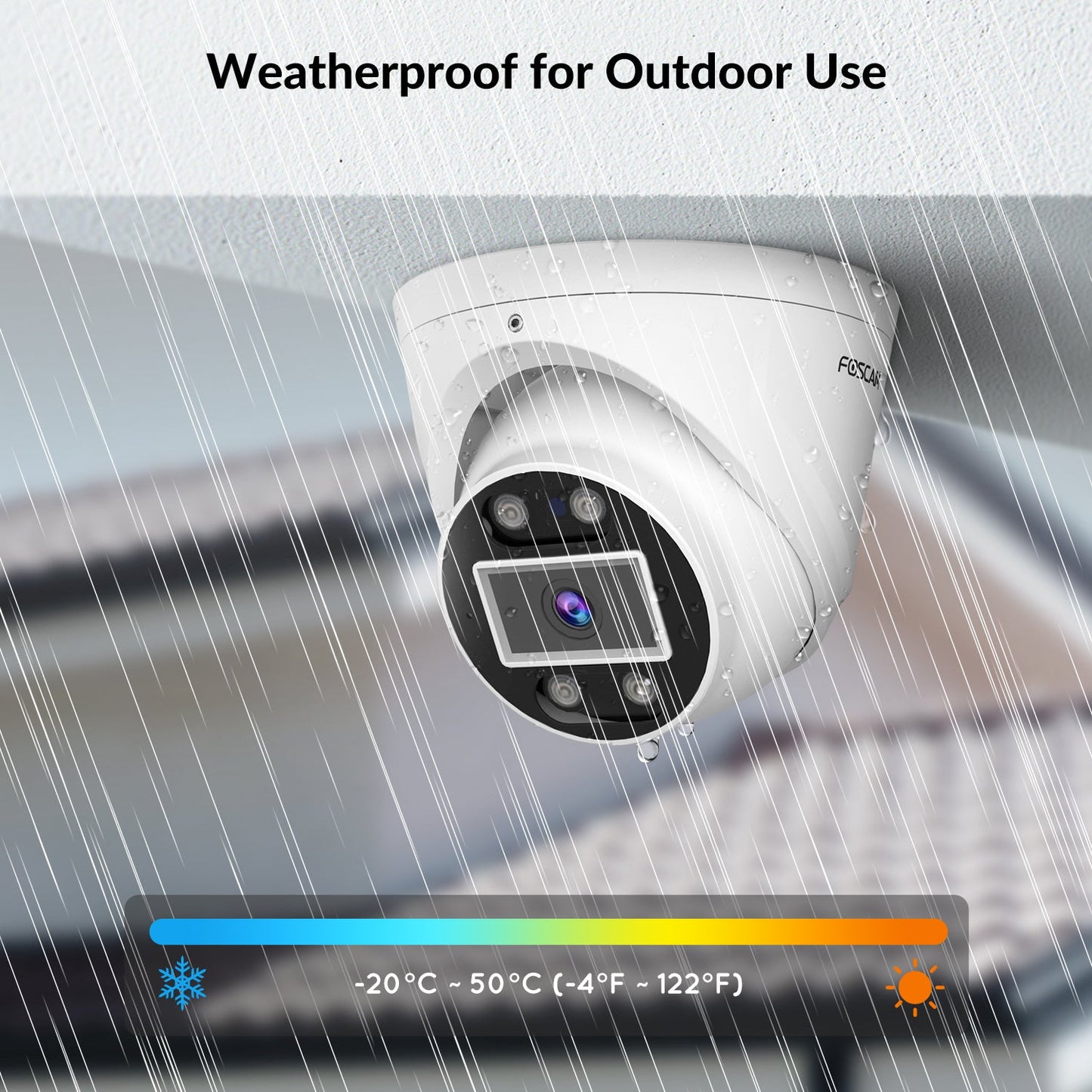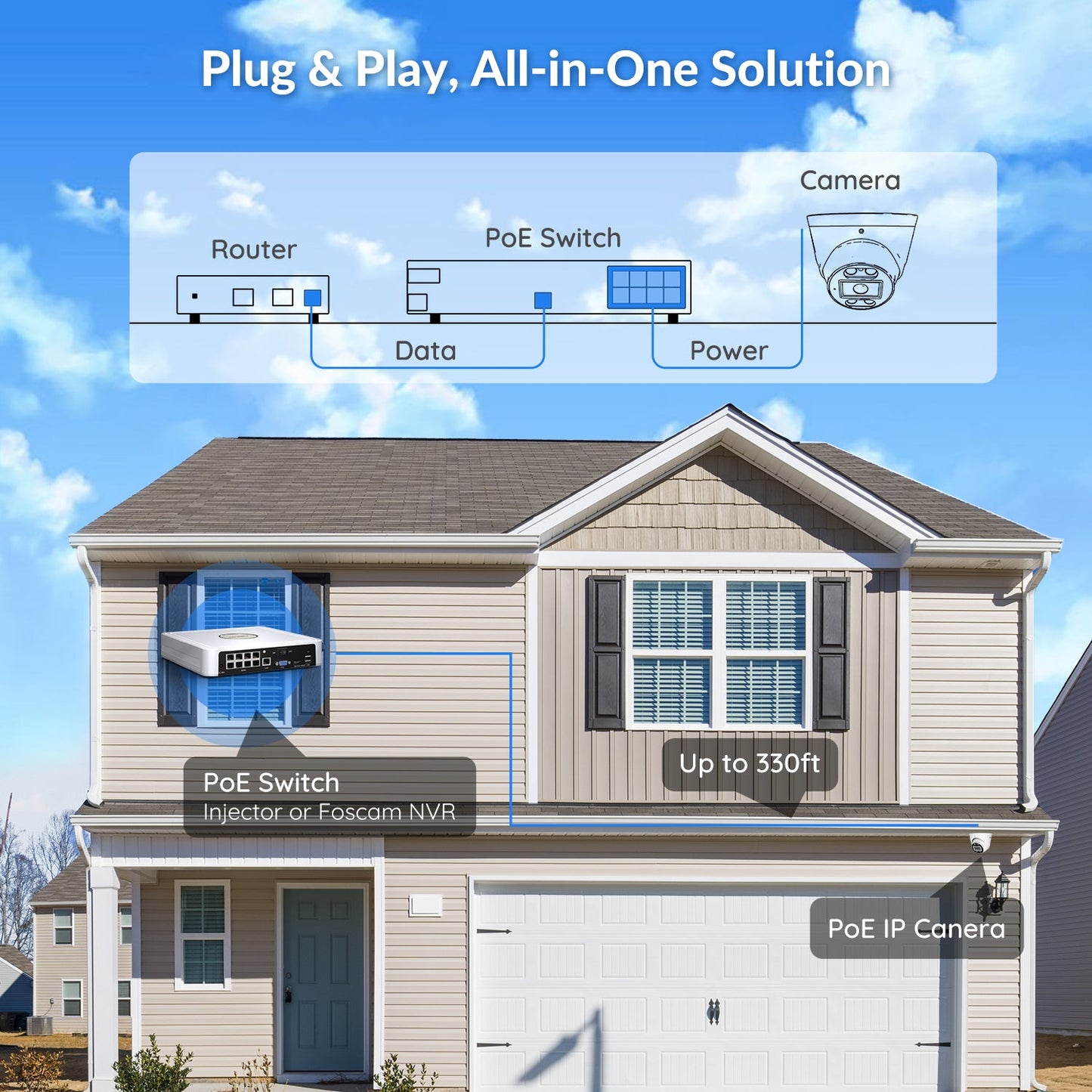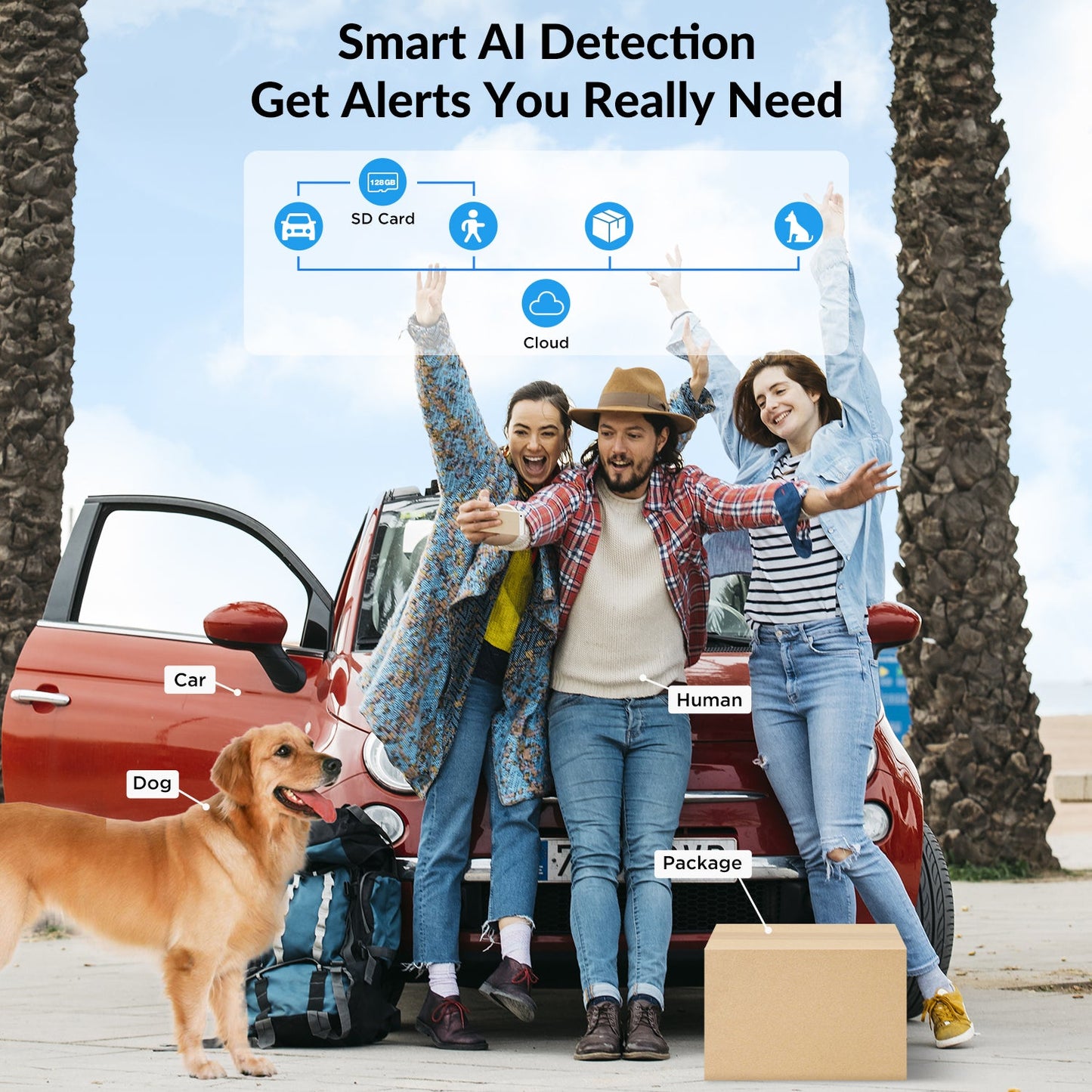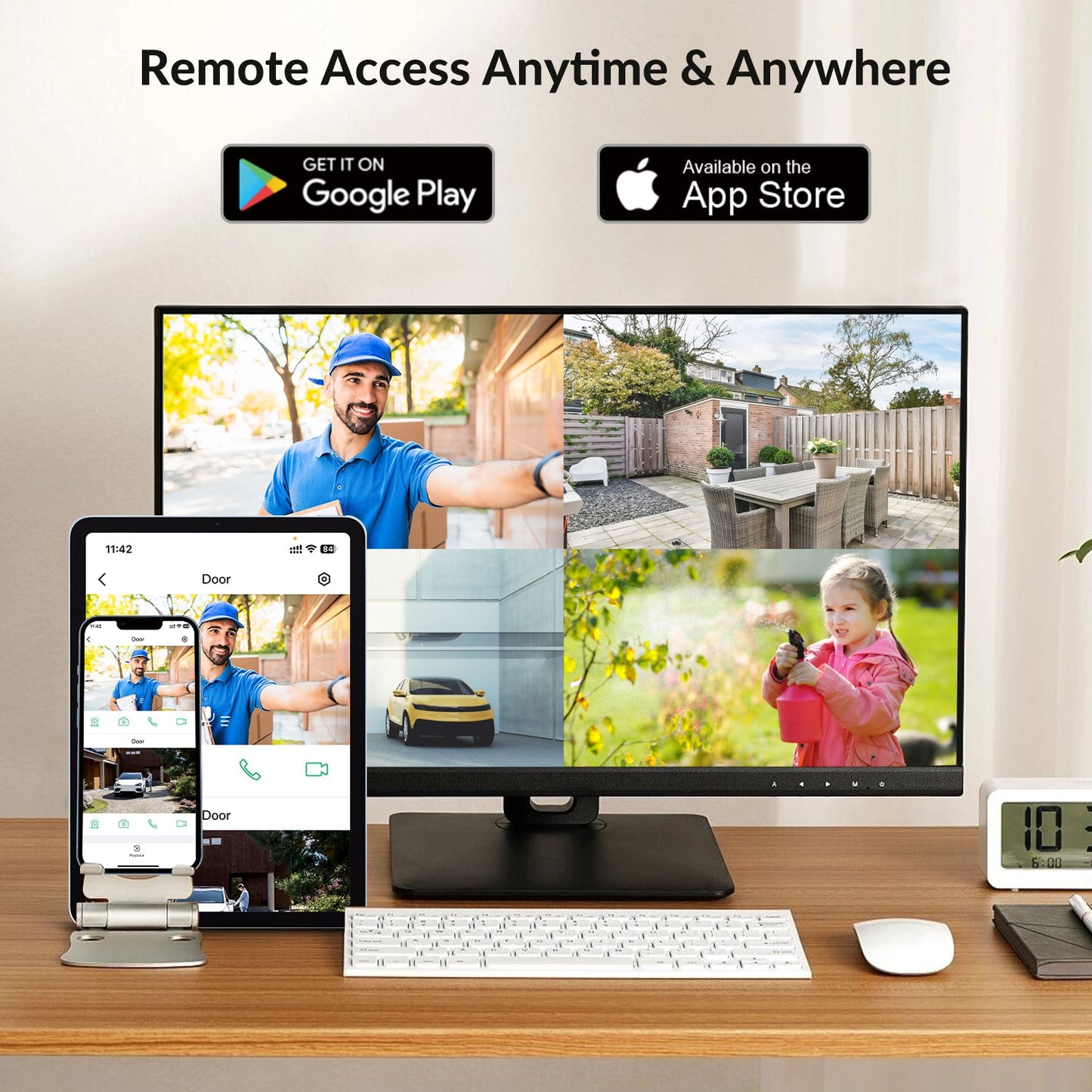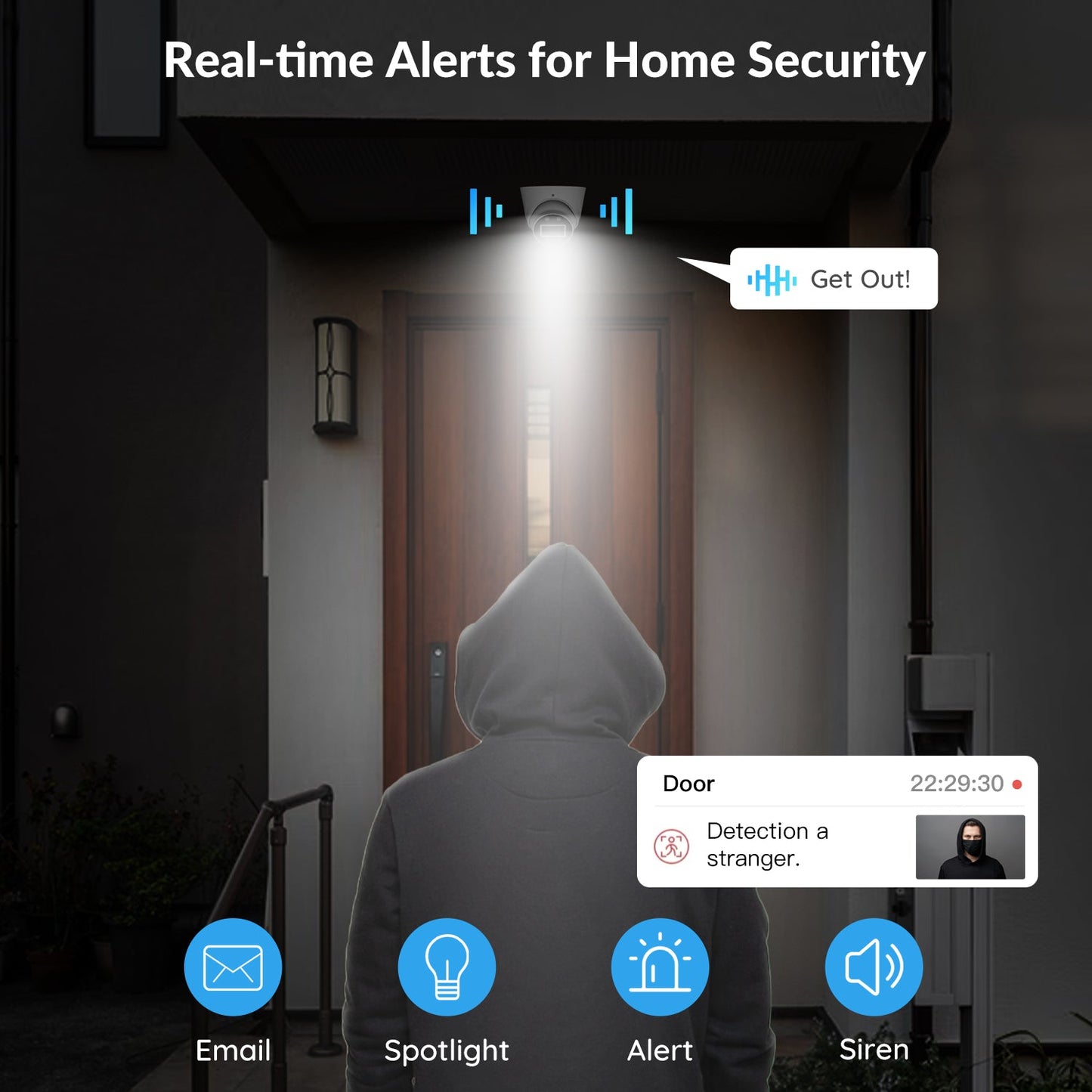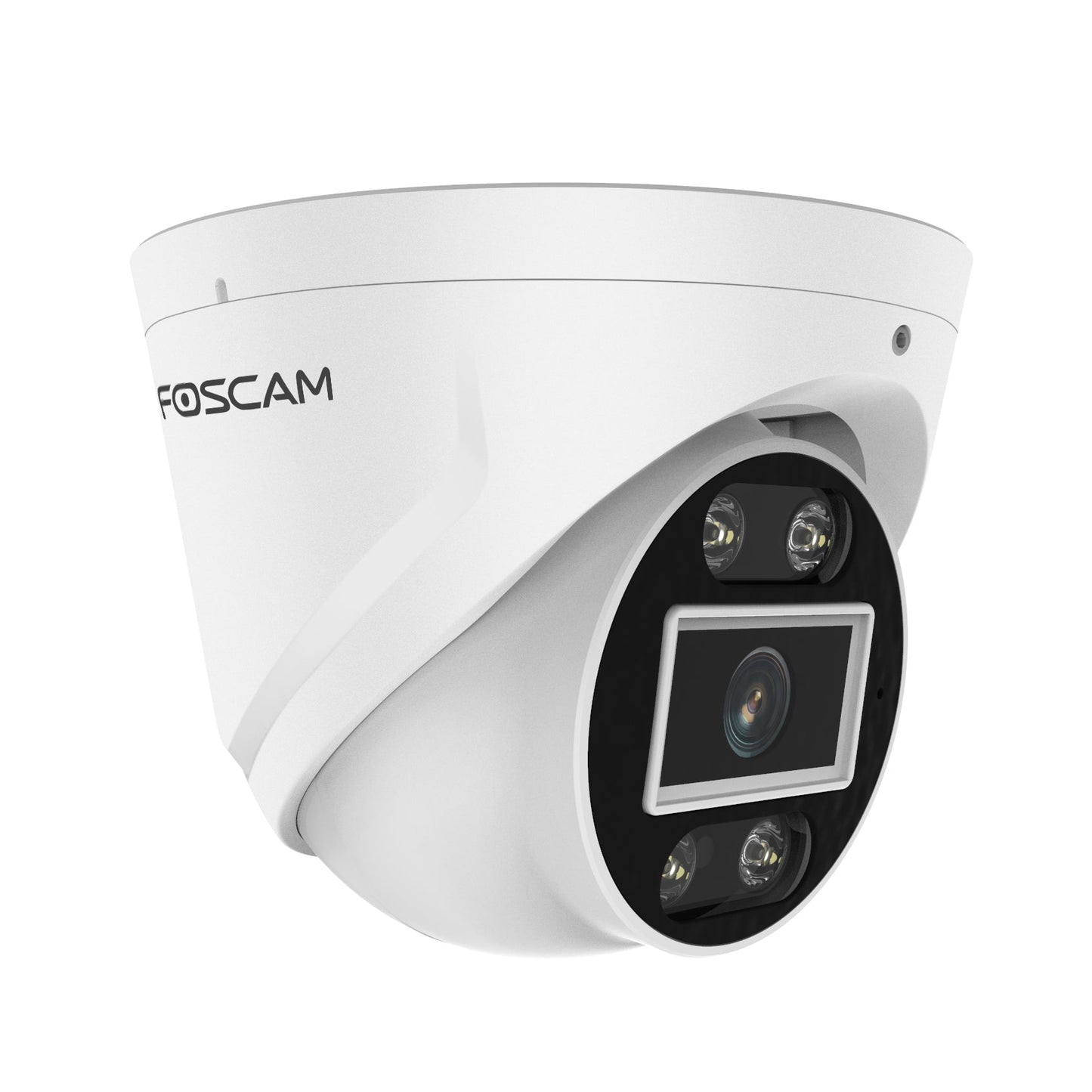 Features
Specifications
Tips
⭐Please note⭐
🎁The product is in a buy one get one free promotion
😝If you buy one, we will automatically send two to you!
✈Free standard shipping within the U.S.
📨If you have any questions, please contact support@foscam.com for help!
5MP UHD VIDEO & 6X OPTICAL ZOOM
The motorized lens (f=4mm) provides a 94° viewing angle and 6X optical zoom, allowing you to zoom in and out in the 3K Ultra HD wide-angle image without compromising image quality.
Smart AI Detection
Equipped with the technology to analyze the shapes of humans, vehicles, and pets, T5EP can detect these targets and send you alerts. Fewer false alarms, more peace of mind.
Enhanced Color Night Vision
Capture vivid and colorful images even in low-light conditions with 4 IR-LED. Whether it's rain, snow, or extreme temperatures, Foscam outdoor camera's IP66 waterproof rating ensures reliable performance.
Power over Ethernet
Power over Ethernet (PoE camera) for easy installation, no matter day or night, rain or shine. This camera is compatible with FOSCAM NVR.
Two-Way Audio & Remote Access
Stay connected with peace of mind to your family or pets with the built-in mic and speakers. Monitor from anywhere anytime using the Foscam VMS or App.
| Wider Viewing at 110° | Flexible Storage Methods | IP66 Waterproof |
| --- | --- | --- |
Support Amazon Alexa & Google Home
We integrate T5EP with Amazon Alexa's voice controls. With this skill, you can tell Alexa to show live stream video from your camera on your Amazon device. Similar voice commands are also available with Google Home.
Customer Questions & Answers
Is this compatable with Blue Iris?

This cam is working perfectly w/ B.I.

Do I have to subscribe to the cloud service to use the camera?

No, cloud service is not required. You can save clips in your Micro SD card or FTP. And you can lively view the camera anytime when connected to the internet.

Can we configure it with my computer or desktop?

Sure, you can. And we suggest our customer use Foscam VMS software that can be downloaded on our website.

How can I know the original password of my camera?

No password is needed. You can configure it with our Foscam APP directly without a password the first time. A new password is needed when the installation is done.
Item

Model

T5EP

Color

Color

White

Video

Lens Type

F:4.3mm,F2.1

Min. Illumination

0 Lux (With IR Illuminator)

Angle of View

Horizontal: 78° Vertical: 43.6




Diagonal: 94°

Sensor

High Definition Color CMOS Sensor

Display Resolution(Max)

5.0M Pixels




(3072*1728)

Color Temperature

4500K

Stream

Dual Stream

Input/Output/span>

Build-in mic and speaker,support full duplex real-time 2-way Audio

Audio Compression

PCM/AAC

Siren

Support maximum 100dB alarm siren

IR-CUT

✔

Night visibility

With 4pcs IR-LED and spotlight, Night Vision Range up to 20m

Night mode

Manual and automatic modes,when the white light is on, the night vision image is colored

Flip image

flip and mirror

Mirro/Flip

✔

Resolution

5MP(3072*1728) 1.5M/15 fps, 1080P(1920*1080)1M/25fps, 720P(1280*720)1M/15fps

Image Compression

H.264+

Network

Network Protocol

IP、TCP、UDP、HTTP、HTTPS、SMTP、FTP、DHCP、RTSP、ONVIF

P2P

✔

ONVIF

✔

Ethernet

One 10/100Mbps RJ45 port

Other Features

Motion Detection

Alarm via E-Mail, upload alarm snapshot to FTP

Human Detection

Alarm via E-Mail, upload alarm snapshot to FTP

Vehicle Detection

Alarm via E-Mail, upload alarm snapshot to FTP

User Accounts

Three levels user role

Firewall

Supports IP Filtering

Intelligent Assistant

Suppports Alexa, Google Assistant

Power Supply

DC 12V/1.0A(Not standard)

POE Standard

802.3af

Power Consumption

5 Watts (Max.)

Audio in/out

✔

2-Way Audio

✔

Physical

Dimension(LxWxH)

170(L)x66 (W)x66 (H)

Net Weight

194g

manual Pan/Tilt Angle

N/A

Power Consumption

<20W

Environment

Waterproof

IP66

Vandal-Proof

✔

Operating Temperature

-20°C~ 50°C (14°F ~ 122°F)

Operating Humidity

10% ~ 80% non-condensing

Storage Temperature

-20°C ~ 60°C (-4°F ~ 122°F)

Storage Humidity

0% ~ 90% non-condensing

Others

Certification

FCC、CE、RoHS、IP66、UKCA、ERP
Foscam always cares in every customer's experience and feedback on the product.
For quick setup, we suggest you to download foscam app on your phone or VMS software on pc first. Download Foscam app free from the App Store or Google play.
Foscam 5mp PoE Security Camera System, 3K IP Camera Outdoor with 4mm Lens, FOV 110°, 6X Optical Zoom, 100ft Color Night Vision, 2 Way Talk, Human/Vehicle/Pet Detection, T5EP
Please confirm the wifi signal is good enough for the camera to connect. If there're some several obstacles between the camera and your router, this would also decrease the stableness of the signal.We suggest you try to get a better place with better signal or use the 2.4Ghz wifi channel to connect. If needed, use a ethernet cable to configure it.
Please confirm the camera is already upgraded to the newest firmware version once connected as we will keep upgrade our firmware to help customer get better experience.(Steps for app to upgrade firmware:Foscam APP>>Device>>Firmware>>update)
If you wanna save clips in your Micro SD card, please confirm that it's in exfat 32 format already. You can get the tools from Foscam Download Center.
All products from foscam on our store come with a 1-year manufacture warranty. Please feel free to contact us via support@foscam.com if you have problems with the camera or installation. Our 14-year professional support team will help you with it.
Buy on the Foscam Store
Fast & Free Shipping

30-Day Money-Back Guarantee

Hassle-Free Warranty

Lifetime Customer Support