Foscam Refurbished FI9928P Outdoor PTZ 4x Optical Zoom HD WiFi Security Camera
Regular price
$139.99
Sale price
$69.99
Unit price
per
Sold out
Save an extra $10 when you apply the coupon above.
⚠ Only 0 left in stock.
⭐Please note⭐
This item is refurbished, there might be a scratch (accepted by many customers), but good working.
Foscam Refurbished products come with a 90-Day Warranty and a 14-Day Exchange or Return since the date. All accessories are included in the package!
If you have any questions, please contact support@foscam.com for help!
Features
Incredible Image Quality. 1080p at 25fps brings a real 1080p smooth video experience thanks to a powerful Ambarella chipset. 355° horizontal & 85° vertical rotation range cover a much bigger vision range. True 4x optical zoom captures more details of your viewing objects. Intelligent WDR corrects dark faces under heavy light to ensure a clear image in every lighting environment. Image Distortion Correction tech will fix common image distortion flaws.

Superb Outdoor/Night Use. IP66 level weatherproof design leaves you free of worrying about rain or dust in outdoor conditions. This model uses a Sony Starvis sensor and deliver true colorful vision image during low-light condition while most of the cameras can just show black/white image then. Night vision range up to 196 ft with the 6pcs high-performance infrared array LED lights.

Security Matters. Detect movement and send a notification to you through Email or smartphone App. The captured image could be stored in multiple ways like Micro SD card (up to 128GB, not included), computer, NVR, FTP, NAS, or Foscam cloud. Easily configure your alarm schedule or block the area you do not want to monitor. The new design makes installing a Micro SD card so convenient by just removing the two screws. Additional I/O sockets could add other sensor devices to monitor your home in multiple ways.

Foscam Cloud uses a US-based AWS server that is of high-level encrypted security and privacy protection. Foscam Cloud Storage plan protects recordings against any footage loss that could result from damage such as theft of the camera. 7 Days Free Cloud storage with 1 month's validity is available on this camera and NO data space limitation during the last 7 days. Able to view live or playback or save all alert captures and video clips on the cloud. More options for Cloud Storage are available.

Easy setup via iOS and Android devices by free Foscam App. Comes with Foscam VMS (Video Management Software), compatible with third-party VMS Blue Iris & ONVIF recording devices, compatible with IE, Chrome, Firefox browsers. Also Works with Alexa (Please update the firmware to the newest version via app). Instant live view the camera on echo show with simple voice command. Contact us for any help by email support@foscam
Foscam Outdoor PTZ (4x Optical Zoom) HD 1080P WiFi Security Camera
Modern life and work pull us all in a million different directions.
With the Foscam FI9928P, you can pull everything together, in one place - check in on your front gate or porch, backyard, driveway, shed, storefront, parking lot, loading dock, even your construction site, right in the palm of your hand. IP66 weatherproofing ensures that the FI9928P keeps recording without damage or interruption in the rain, sleet, or snow. Instant access and remote viewing by mobile app mean that you never have to wonder again if your property is safe: juggling life's responsibilities just got a lot easier.
The FI9928P is more than a security camera.
We've made security both simpler and more versatile than ever before: stay connected to what you care about and never let an important event slip by, no matter where you are. Your video is securely streamed in stunning 1080P detail, making it feel like you're there. Receive alerts with our app - you'll know when someone is right on your doorstep - and respond to events as they happen. Our recording choices also let you preserve footage how you want when you want. Local storage is free (no monthly fees).
Reliability, value, and intelligence are our gold standards.
Foscam wouldn't be an internationally recognized brand in security, for over 10 years running, if we didn't understand that reliability, value, and intelligence are all three necessary for making an outstanding security camera. The FI9928P features enhanced night vision (up to 196 feet) and are equipped with highly sophisticated optical zoom (magnifies up to 4X). Say goodbye to straining and guessing at blurry, grainy, or poorly illuminated scenes: you'll enjoy crisp, well-illuminated footage in true 1080P HD. Our smart alert and motion technology even avoids false alarms (e.g. plants swaying in wind).
True Professional HD Video Quality for Outdoor.
True 1080P HD video quality.
Foscam always uses top materials to build products on security. The result is a truly professional HD 1080P stream thanks to the Ambarella chipset offering incredible density of detail at a value that is unrivaled in the home security market. The amazing optical zoom clarity (4x) captures more details for your care. The most headache problem of the camera is the image distortion flaws but this issue was resolved on this FI9928P with our image distortion correction tech.
Ingress Protection 66 Weatherproofing.
Unlike cameras with plastic housing and seals, which may malfunction during storms or deform and lose their protection, the FI9928P has a tough aluminum shell. It is built to perform in severe weather without damage, interruption, or footage loss, and the ingress protection 66 standard is rated for protection against heavy rain, sleet, and snow. With our unrivaled 1 Year Quality promise on outdoor models, you can rest assured that they are made to outlast any hazard that nature throws at them.
See-through total darkness.
Night vision is one of the areas where higher quality hardware makes the most difference. The FI9928P's enhanced night vision uses high-intensity IR LEDs that illuminate details in crisp, clear night vision up to 196 feet away. Functions such as app push alerts and smart motion detection especially benefit from better night vision: the alerts are more sensitive and relevant, and this advantage is further enhanced by an intuitive app interface for customizing your motion sensitivity and alert settings.
Store your record in multiple ways
We believe in offering a full suite of storage options. You can send and store video by FTP, absolutely free, and we even support NVRs (not included), NAS, and local hard drive recording. Our affordable Foscam Cloud service is also available to safeguard your footage from theft or damage by recording it to our secure Cloud. Freely record and play the last 7 day's motion-triggered recordings on Foscam Cloud as a trail(1-month validity).
Be there, even when you're not!
Be there, even when you're not.
- See your cameras in real time on your smartphone. - View recorded Cloud footage with convenient search and scan functions. - Schedule recordings, configure alerts, and pan/tilt/zoom right from your mobile. - Enjoy 24/7 access using our beautifully designed App, free with your camera.
Get only the alerts you care about.
- Smart motion detection is seamlessly integrated into your phone. - You can receive push alerts any time relevant motion is detected. - Custom motion sensitivity settings tailor the alerts to your camera's environment. - Sound alerts can also detect events around or behind the camera's visual range (e.g. a baby crying or window breaking).
Secure Cloud access over the web.
- Freely record and play the last 7-day's motion-triggered recordings on Foscam Cloud(1-month validity). A longer-time cloud-storage subscription plan is also available at a competitive price. - Easily scan your Cloud footage with 24/7 access and unrivaled affordability. - Quickly find and download any recording you're looking for. - Offsite storage protects recordings against any footage loss that could result from damage such as fire, or theft of the camera.
| | | | |
| --- | --- | --- | --- |
| | SD2X | FI9928P | HT2 |
| Display resolution | 1920x1080 | 1920x1080 | 1920x1080 |
| Image Frame Rate | 25fps(1080P) | 25fps(1080P) | 25fps(1080P) |
| Detection | Motion/Sound Detection | Motion/Sound Detection | Motion/Sound Detection |
| Night vision | 165ft | 198ft | 165ft |
| Pan&Tilt | Pan 350°&Tilt 90° | Pan355° & Tilt 85° | Pan 350°/Tilt 90° |
| Waterproof level | IP66 | IP65 | IP66 |
| Optical Zoom | 18X optical zoom | 4X optical zoom | 4X optical zoom |
| 2-Way Audio | ✓(Extra speaker is needed) | ✓ | ✓ |
| Storage | Micro SD card(max128G ), local ,NVR, FTP, and Cloud storage | Micro SD card(max128G ), local ,NVR, FTP, and Cloud storage | Micro SD card(max128G ), local ,NVR, FTP, and Cloud storage |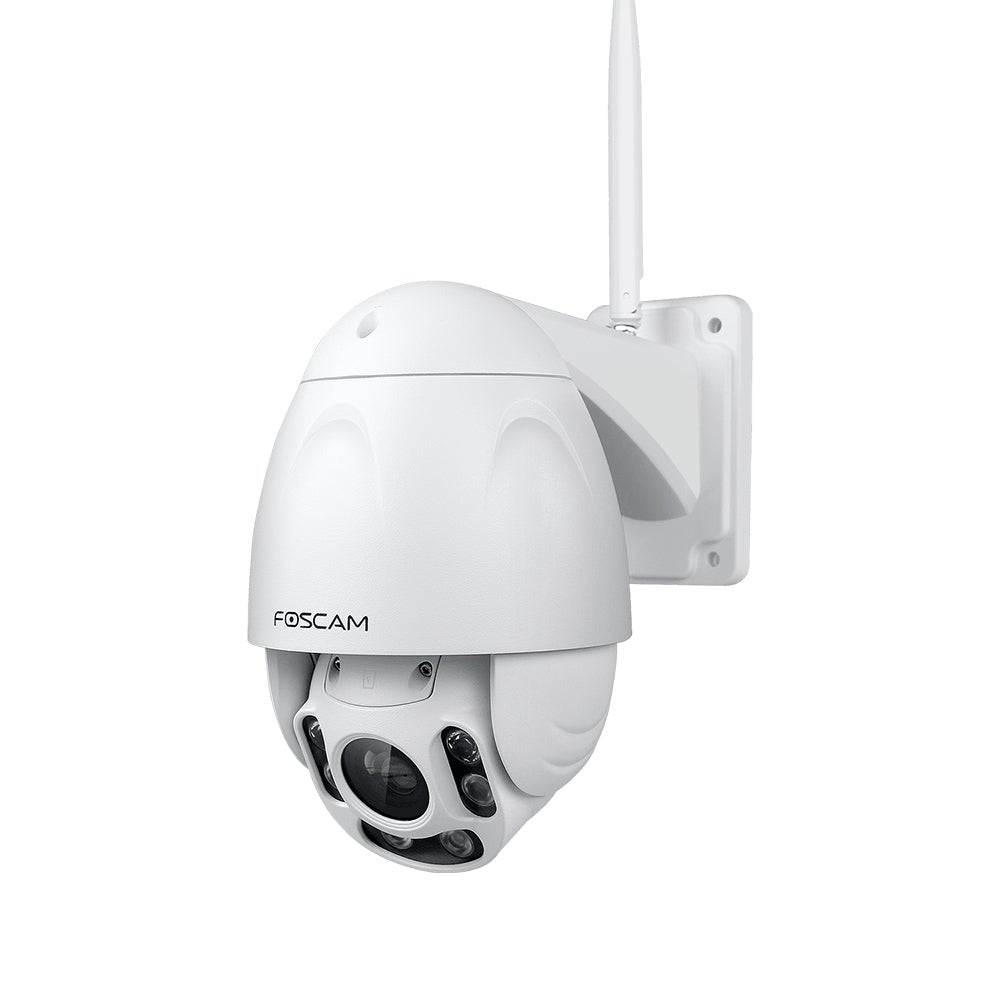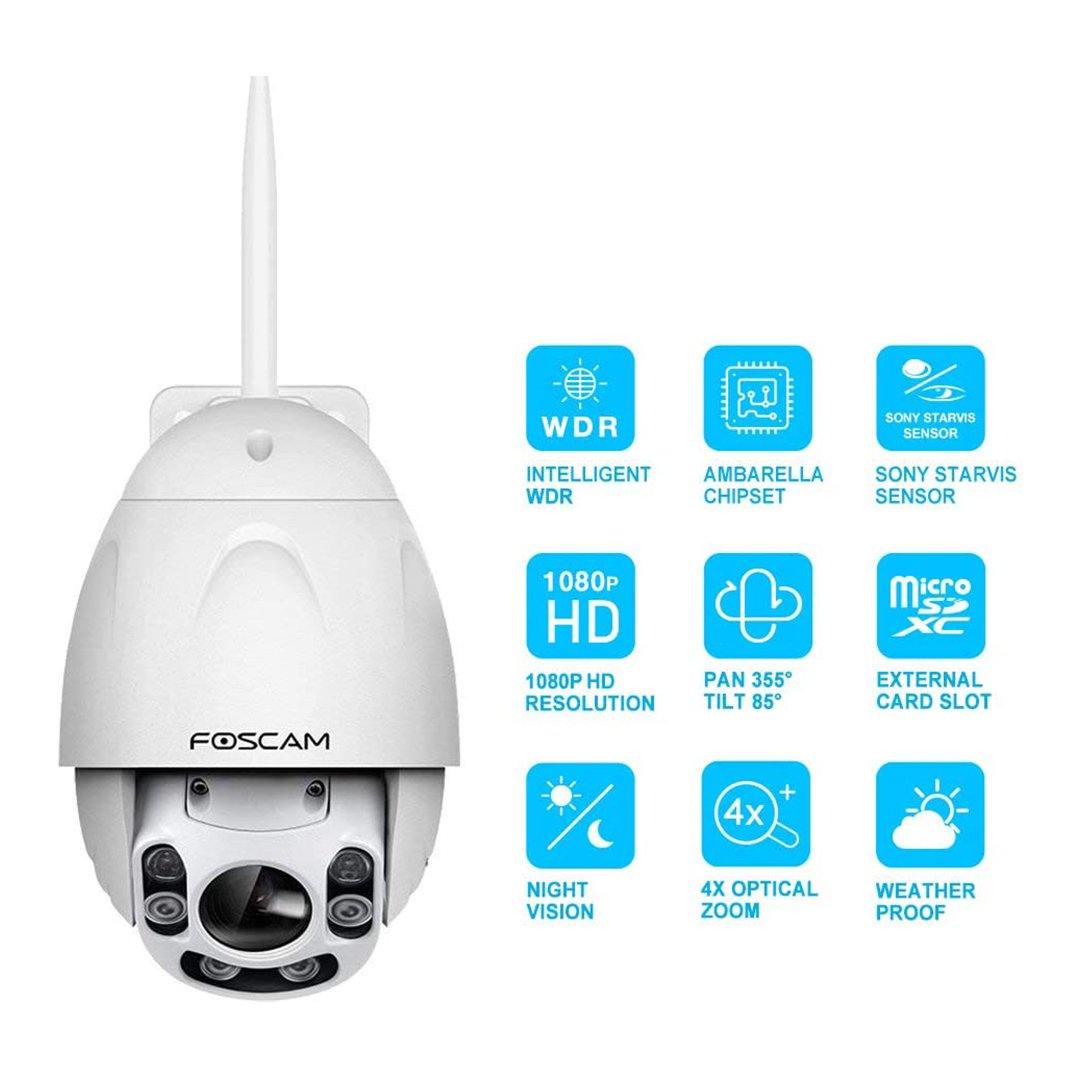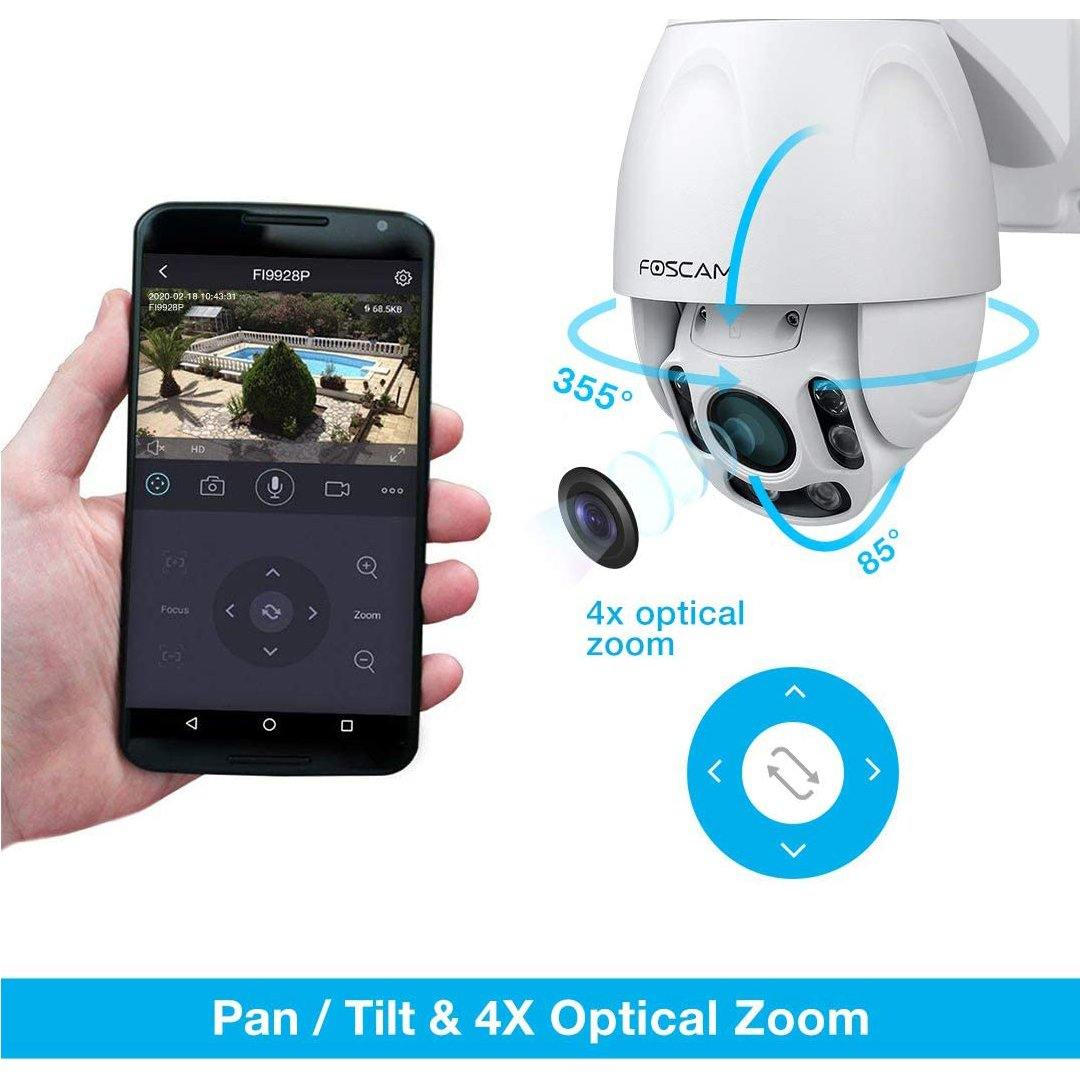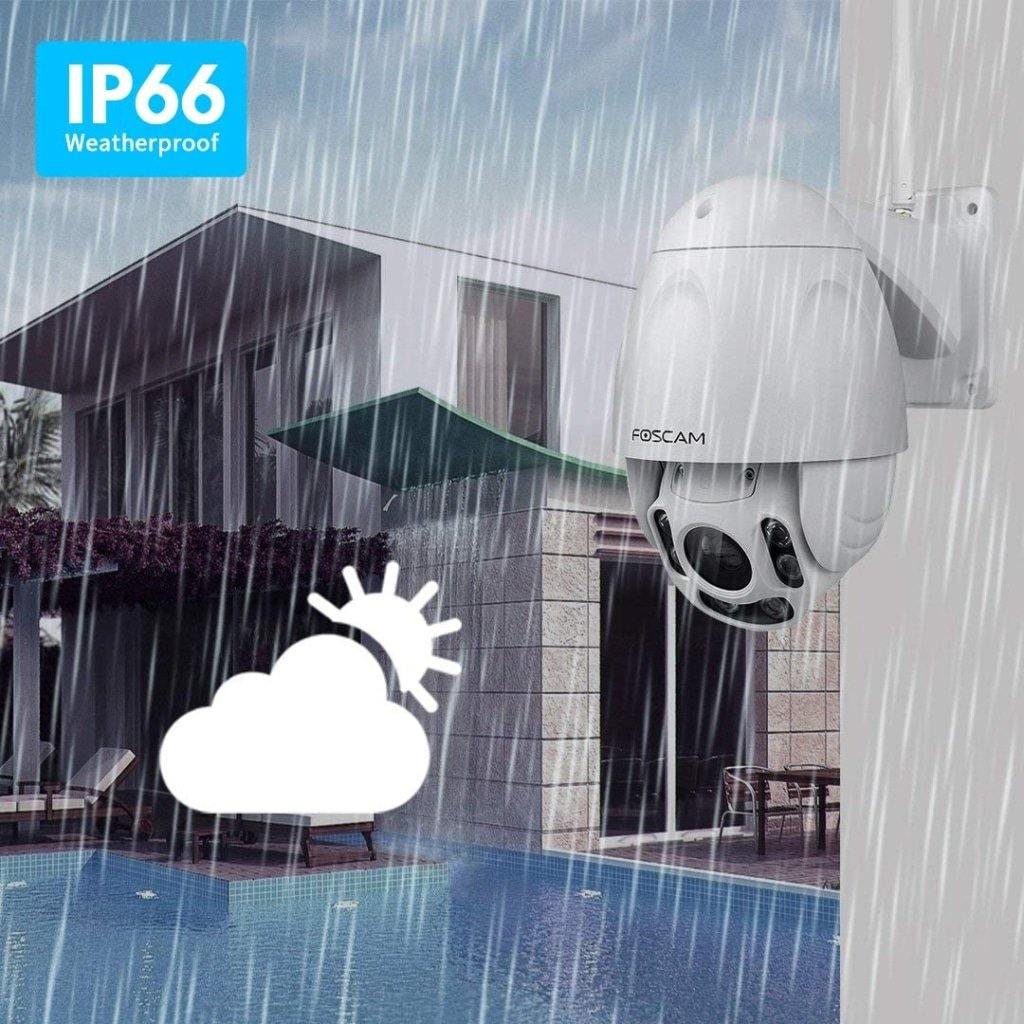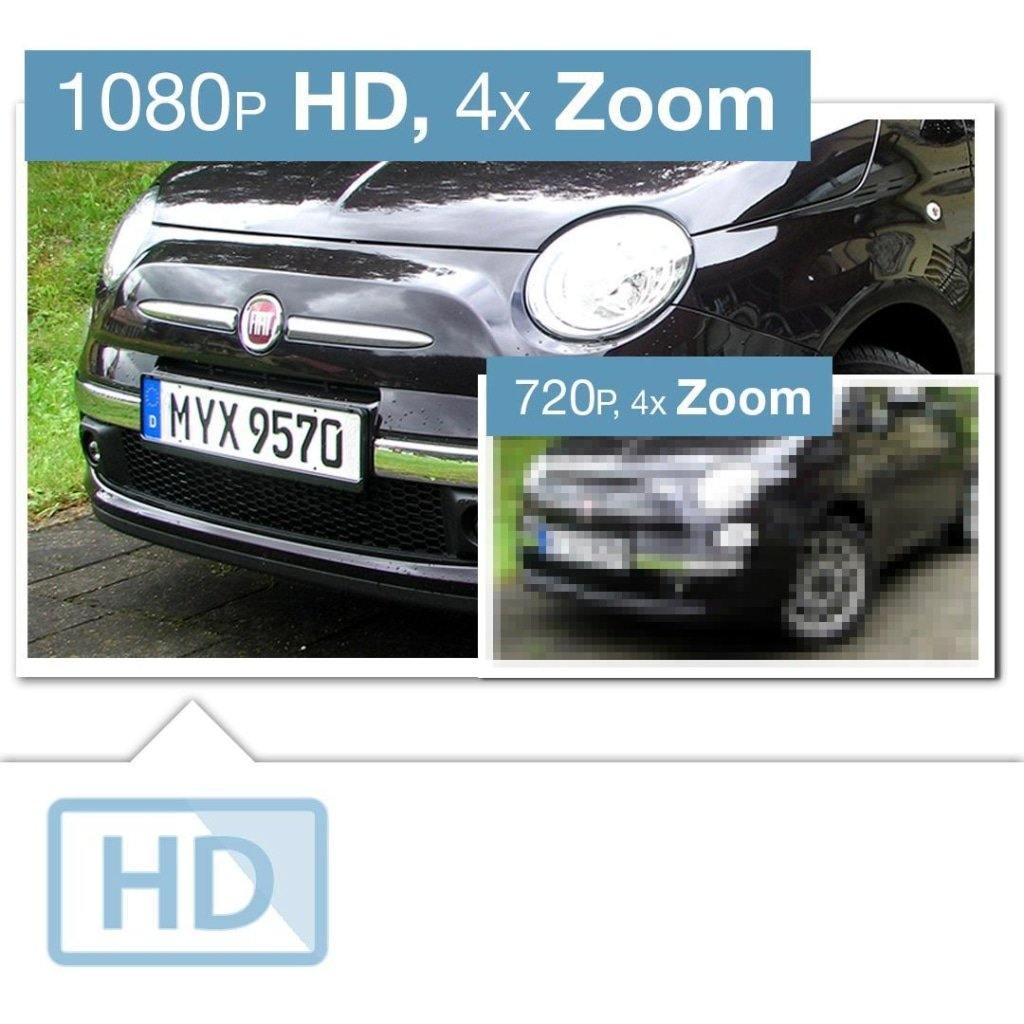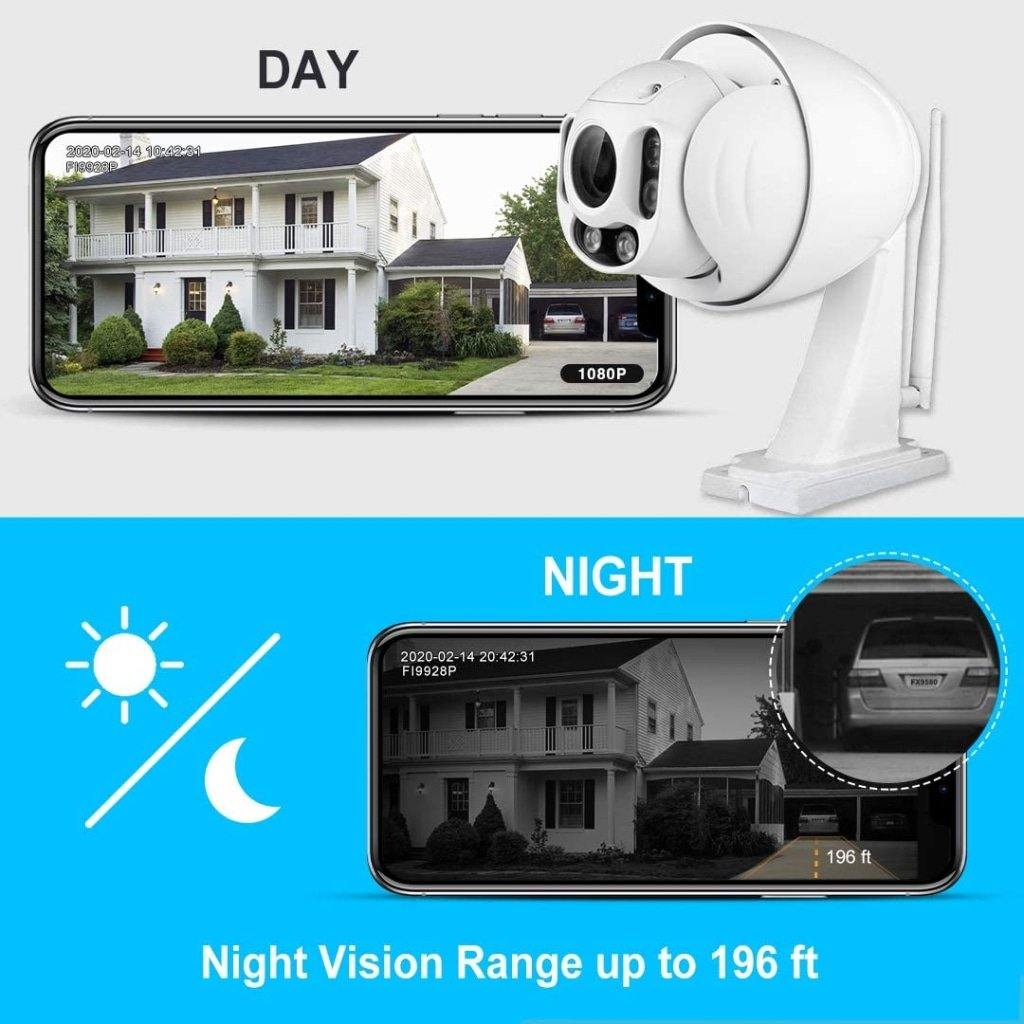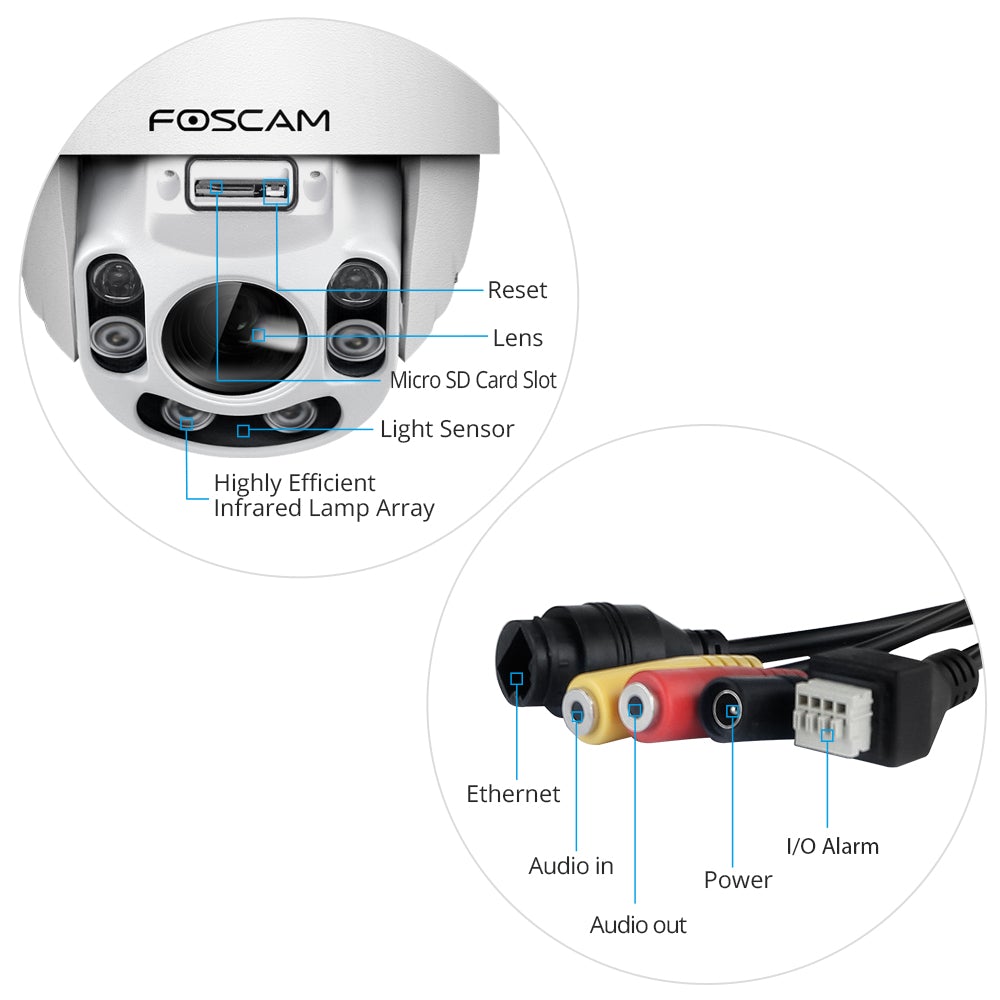 Free Shipping

30-Day Money-Back Guarantee

Hassle-Free Warranty

Lifetime Customer Support