What Is a Spotlight Camera
A spotlight camera is a piece of surveillance equipment with motion lights that illuminates a dark area and starts to record when it is triggered by suspicious events.
Foscam Spotlight WiFi cameras: They receive power supply via plugged-in adapters to power outlets and transmit data via WiFi signal. To ensure stable image and video transmission, make sure that you install the wireless spotlight cameras within your WiFi range.
You may also hide the wires of outdoor spotlight cameras to weather-proof electrical boxes. So, there will be no exposed wires and thus reducing the risk that power adapters are unplugged by intruders. Also, such wireless spotlight cameras look aesthetically pleasing as well.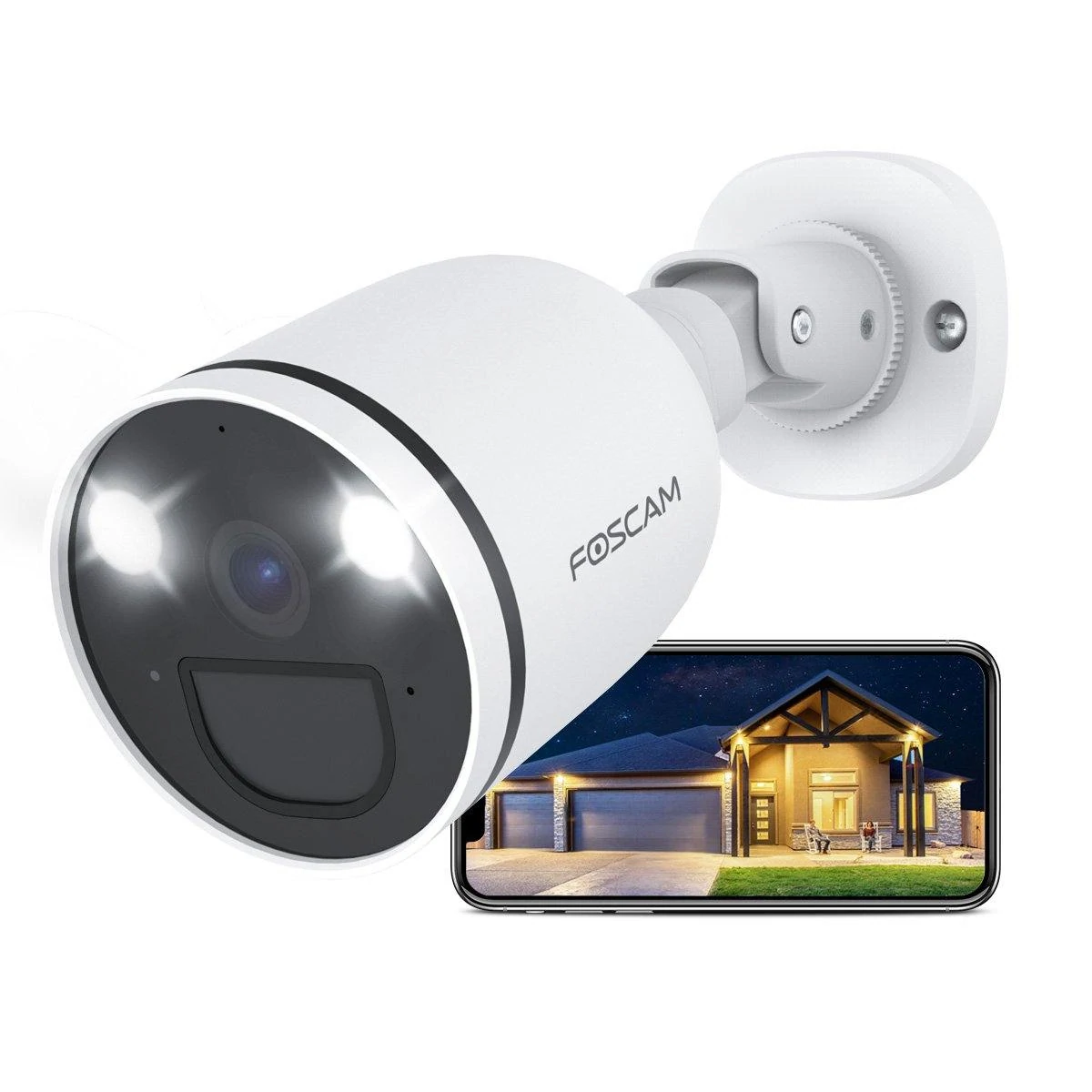 Why Should You Buy Foscam Spotlight Security Cameras
Benefit 1.  Spotlight Cameras Introduce More features
Outstanding 2K HD video resolution at 25fps without any lags. This spotlight camera features an extra-wide 121° viewing angle allowing you to cover every angle.With built in microphone and speaker , it allows you to talk and listen to visitors.Powered by 110V US adapter(included) other than battery version,which means much stabler and more powerful.
Active Deterrents - A boisterous 110db siren alarm and an illuminating built-in spotlight a is equip in this security Camera. Siren and spotlight can be triggered manually or by detection to scare away would-be criminals.Human detection or PIR detection are available on this camera to reduce false alerts.SPC only cares what you care.
Color Image All Day Round - Forget the black and white images now.You can get color videos all days with built in spotlight.Color night vision ranges up to 33ft. It can also be tirggered manually via foscam APP for illumination when needed.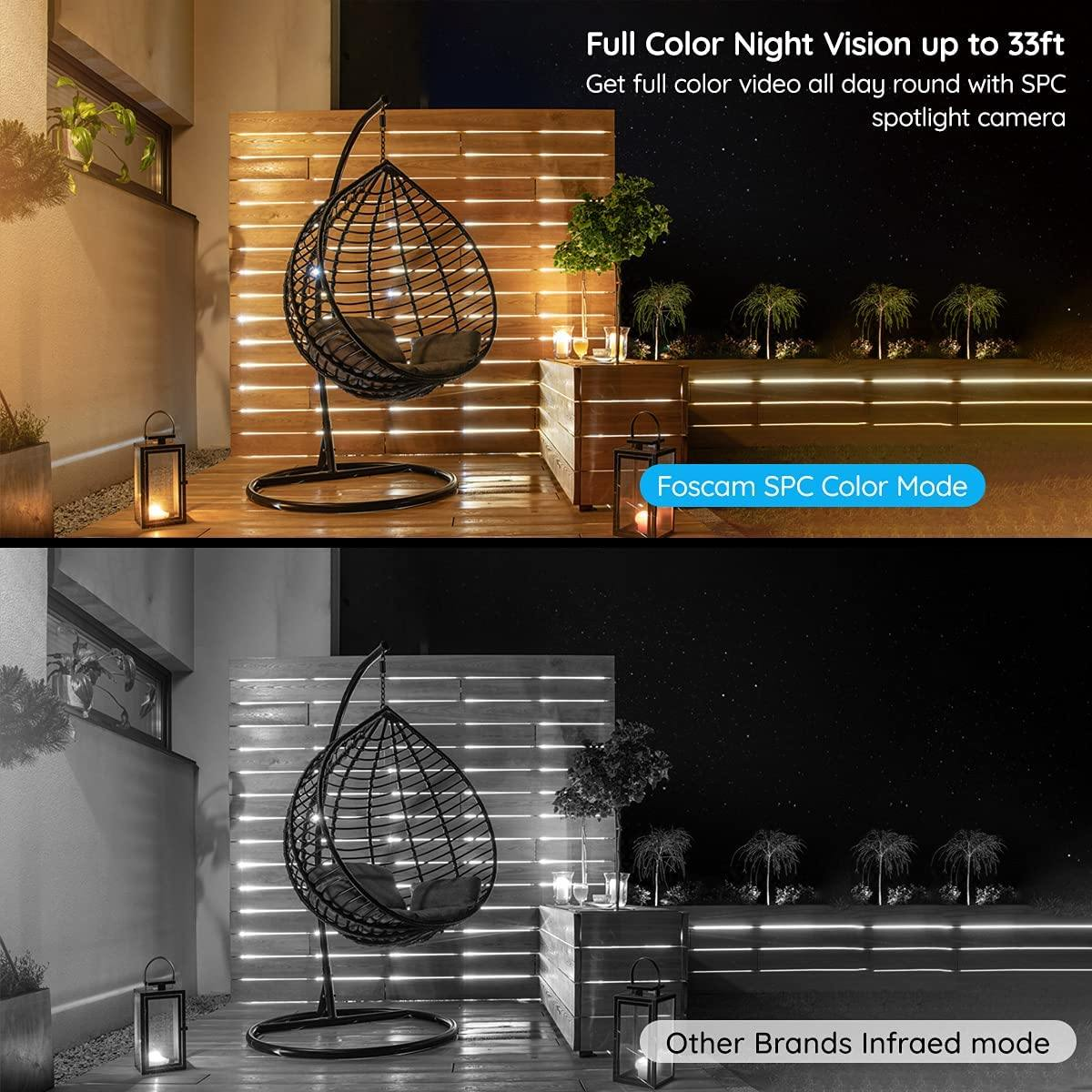 Benefit 2.  Security Cameras with Motion Lights Scare Off Unwelcome Visitors
With the default settings, motion lights for security cameras are activated when their motion sensors are triggered.
Events that may trigger motion spotlights include:
Intruders like burglars attempting to break into your house
Illegal dumping
Neighbors damaging your cars
Trespassing kids on your property when you are not home
Mailmen driving on your lawn
When the spotlight cameras shine bright upon motion events, these unwelcome visitors may get shocked and come to realize that they are under surveillance in the next second and flee away.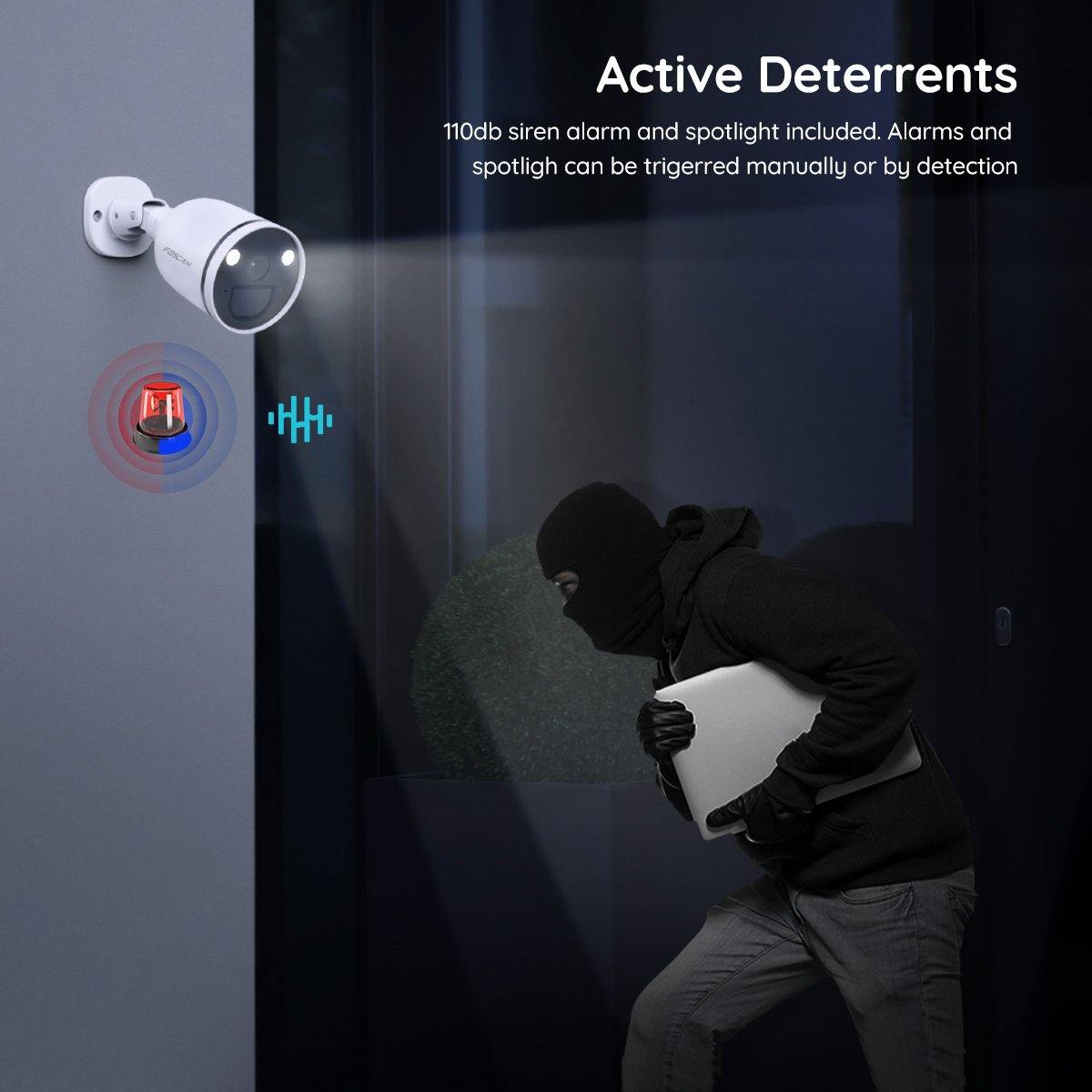 Benefit 3.  Foscam Spotlight Cameras Are Compatible with Smart Home Devices
SPC outdoor Camera Works with Alexa and Google Assistant. Free your hands to view on your smart device with voice control.7-day looping cloud service with 3 months validity is included on this Wifi IP camera.Able to view live or play back or save all alert captures and video clips on the cloud. Local service like microSD card(up to 128G) ,NVR or ftp is also supporte
Benefit 4.  2.4g/5g Dual Band Wifi Compatible 
Powerful 2.4/5Ghz Dual Band WiFi chipset brings stable and longer WiFi transmission distance with WEP/WPA/WPA2 encryption. Get access to your camera via foscam app just in seconds,anytime anywhere. Also compatitble with ethernet wire connection(optional).
Benefit 5. Processional software
If you like to view your camera with cellphone, you may download foscam app to connect your camera.
If you like to view your camera with computer, you may download foscam vms.
Both of them are free and easy to use.
With Foscam spotlight cameras on watch, you are able to enjoy peace of mind during nighttime even there is no lighting around your house.
When any suspicious events are detected,  Siren and spotlight can be triggered manually or by detection, leaving no chances for intruders to hide or break into your property.