When something goes bump in the night in your backyard, you probably want to know about it. While security cameras with night vision can show you what's out there, a floodlight camera can both show and tell that rascal or raccoon to get off your lawn, scaring them away with some powerful lumens and possibly a blaring siren.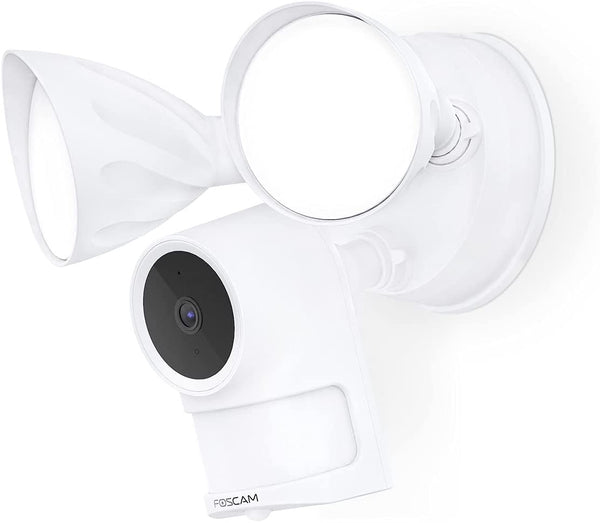 What is Foscam Flood Light Camera?
Foscam Floodlight Cam is a motion-activated HD security camera that includes two floodlights, AI detection, PIR functionality, remote-activated alarm and two-way audio with noise cancellation. With Foscam Floodlight Cam you can see and hear any activity and speak with anyone in range of your Floodlight Cam.
What Comes in the Box?
Floodlight Cam
Foam Gasket × 1
Quick Setup Guide
Mounting bracket
Installation Hook
Expansion Screws
What are the Specs of the Foscam Floodlight Cam?
 

 

Camera Resolution

4.0M Pixels (2688*1520)

brightness: 2600lum

Color temperature: 5000K

Field of View

Horizontal:121°,Vertical:61°

Diagonal:156°

Power Supply

AC 100~240V

Connectivity

2.4 GHz/5GHz

Night Vision

10m

Audio Specs

Two-way audio with noise cancellation

System Requirements

 iOS 12 or later, Android 6.0 or later

Operating Temperature

-20 °C to 60 °C

Power Assumption

<28W

Floodlight Color Temperature

White
Can Floodlight Cam Operate on Battery Power?
No
Can Floodlight Cam Operate on Alternative Power Options Such as a Solar Panel?
No
What do I Need to Install Floodlight Cam?
Everything you need (except a junction box) to install Floodlight Cam comes in the box.
If you already have an existing wall-mounted floodlight, you can easily install Floodlight Cam into the existing junction box using the mounting bracket we provide.
Can I Install Floodlight Cam Upside-down or Horizontally?
Yes, but do not recommend, because with Foscam APP, you can control the camera lens easily.
Can I Control the Floodlights?
Floodlight Cam gives you the option to manually control the lights with the free Foscam app. While the lights will automatically turn on at night as soon as Floodlight Cam detects motion, you can also use the app to manually turn the lights on or turn them off. As long as Floodlight Cam is connected to a wifi network, you can control the lights from anywhere.
Is Floodlight Cam Compatible with Smart Home Devices?
Works with Alexa and Google Assistant. Just get a live view on your smart device with simple voice control.7-day looping cloud service with 3 months validity is included on this Wifi IP camera.No clips would miss when using the cloud service.Local service like microSD card(up to 128G) ,NVR or ftp is also supported. Also it is onvif compatible.
How to Connect Foscam Floodlight Cam?
If you like to view your camera with cellphone, you may download foscam app to connect your camera.
If you like to view your camera with computer, you may download foscam vms.
Both of them are free and easy to use.
With Foscam floodlight cameras on watch, you are able to enjoy peace of mind during nighttime even there is no lighting around your house.
When any suspicious events are detected,  Siren and LED light can be triggered manually or by detection, leaving no chances for intruders to hide or break into your property.